The Mule
Earl Stone, in his 80s, is an award-winning horticulturist and Korean War veteran in Peoria, Illinois. He is facing financial ruin and is estranged from his ex-wife Mary and daughter Iris for always putting work before family. He is still on friendly terms with his granddaughter Ginny and attends her wedding rehearsal. Desperate for money, he takes up an offer from the friend of one of Ginny's bridesmaids and becomes a "mule" transporting cocaine through Illinois for a Mexican drug cartel. Facing little suspicion due to his age, race, spotless criminal history, and strict adherence to driving laws, Earl is soon trusted with huge amounts of drugs and is paid large amounts of cash. With the money he buys a new truck, settles his financial problems, and pays for renovations of the local VFW Post, as well as his granddaughter's wedding and education. He becomes friendly with the cartel members, who call him "Tata" (grandfather).
Meanwhile, with details from an informant, a Drug Enforcement Administration (DEA) task force is narrowing in on the cartel's deliveries to Chicago. Tensions within the cartel erupt when Gustavo, a power-hungry cartel lieutenant, assassinates cartel boss Laton, and subsequently demands Earl be kept under tighter control.
In the middle of a $12 million cocaine shipment, Earl learns that Mary is gravely ill. After Ginny talks some sense into him, he postpones the drug delivery to make peace with Mary and stays by her side until she dies peacefully days later. After attending the funeral and finally reconciling with his family, Earl resumes the delivery as both the DEA and the cartel close in on him.
The cartel's enforcers catch him and, upon discovering he was away to attend his wife's death and funeral, which they respect, call the cartel leader to request leniency. The cartel underboss allows him to continue, with the caveat that if anything goes wrong it will be on the enforcers' heads. Earl continues towards the drop point, but the DEA agents finally catch up to him and arrest him. In court, disregarding his age as an excuse and guilt-ridden over his crimes and for failing his family, Earl pleads guilty to all charges and is sent to federal prison with his family showing him their support. In prison, he returns to horticulture.
Destroyer
LAPD detective Erin Bell arrives on the scene of a John Doe murder and informs the responding officers that she knows the identity of the murderer.
At the police station, Erin receives a $100 bill stained from a dye pack in an unmarked envelope. Using a contact at the FBI, she confirms that the bill is from a bank robbery committed by a California gang sixteen years prior that she and her former partner, FBI agent Chris, were embedded in as undercover officers. She tells her superiors that she believes the bill to be proof that the gang's leader, Silas, is once again active.
Erin works her way through the remaining members of the gang in order to find Silas. She begins with Toby, who was in prison but is now gravely ill and living with his mother on compassionate release. She gives him a handjob in exchange for the location of Arturo, a member of the gang atoning for his past crimes by offering pro bono legal services to immigrants. Arturo provides Erin with the location of Dennis DiFranco, a lawyer who launders the multi-million dollar haul from the original robbery and from whom Erin deduces that Silas is active again because the money from that heist is almost gone. After threatening him, DiFranco gives Erin the location of the next money drop, which is performed by Silas' girlfriend Petra, who has developed a severe drug addiction. Erin tracks Petra, eventually intervening in a bank robbery committed by Silas' new gang. She and Petra brutally injure each other in a fight, ending with Erin abducting Petra.
Flashbacks reveal that Erin and Chris developed a romantic relationship while undercover, with Erin eventually becoming pregnant, later having their daughter, Shelby. At Erin's behest, they decided to become legitimate participants in a bank robbery and planned to take their shares of the heist, report to their superiors that they lost contact with the gang, and eventually quit the force. The robbery was botched when a dye pack exploded in one of the bags, and Silas killed the bank teller who accidentally placed it. When Chris attempted to intervene, he was shot and killed by Silas. After crashing the van in a dumpster and seriously injuring Toby, Erin hid her share of the heist and returned to policing, disclosing neither her original plan nor her share of the heist.
In the present, Erin visits Ethan, Shelby's adoptive father, and later talks with Shelby. Erin visits a self storage unit to retrieve her $300,000+ share of the stolen money, but finds that all but $11,000 is stained with dye. Silas sends a text message to Petra's phone, instructing her to meet him at the Sixth Street Viaduct, where Erin confronts and shoots him, avenging Chris. She returns the next morning to find the police investigating the crime scene: the John Doe murder investigation depicted in the first scene of the film. With Silas dead, Erin gives evidence of her guilt – where he can find Petra, a stained bill, and the key to her storage unit – to her partner, Antonio. Erin has been bleeding internally for hours, from the injuries she sustained during her fight with Petra, and she dies while sitting in her car.
Vice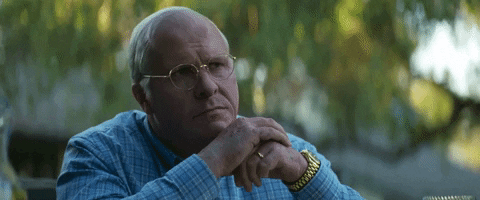 Vice is narrated by Kurt, a fictitious veteran of the Afghanistan and Iraq Wars. The film opens with Dick Cheney and other White House officials and staff responding to the September 11, 2001, attacks. The film then flashes back to Wyoming in 1963, where Cheney finds work as a lineman after his alcoholism led him to drop out of Yale University. After Cheney is stopped by a traffic cop for driving while intoxicated, his wife Lynne Cheney convinces him to clean up his life.
The film flashes forward to 1969 when Cheney finds work as a White House intern during the Nixon Administration. Working under Nixon's economic adviser, Donald Rumsfeld, Cheney becomes a savvy political operative as he juggles commitments to his wife and their daughters, Liz and Mary. Cheney overhears Henry Kissinger discussing the secret bombing of Cambodia with President Richard Nixon, revealing the true power of the executive branch to Cheney. Rumsfeld's abrasive attitude leads to him and Cheney being distanced from Nixon, which works in both men's favor; after Nixon's resignation, Cheney rises to the position of White House Chief of Staff for President Gerald Ford while Rumsfeld becomes Secretary of Defense. The media later dubs the sudden shake-up in the cabinet as the Halloween Massacre. During his tenure, a young Antonin Scalia introduces Cheney to the unitary executive theory.
After Ford is voted out of office, Cheney runs to be representative for Wyoming. After giving an awkward and uncharismatic campaign speech, Cheney suffers his first heart attack. While he recovers, Lynne campaigns on her husband's behalf, helping him to win a seat in the U.S. House of Representatives. During the Reagan Administration, Cheney supported a raft of conservative, pro-business policies favoring the fossil fuel industries. He also supported the abolishment of the FCC fairness doctrine which led to the rise of Fox News, conservative talk radio, and the rising level of party polarization in the United States. Cheney next serves as Secretary of Defense under President George H. W. Bush during the Gulf War. Outside of politics, Cheney and Lynne come to terms with their younger daughter, Mary, coming out as lesbian. Though Cheney develops ambitions to run for president, he decides to retire from public life to spare Mary from media scrutiny.
During the presidency of Bill Clinton, Cheney becomes the CEO of Halliburton while his wife raises golden retrievers and writes books. A false epilogue claims that Cheney lived the rest of his life healthy and happy in the private sector and credits begin rolling, only for them to abruptly end as the film continues.
Cheney is invited to become running mate to George W. Bush during the 2000 United States presidential election. Cheney seems to feel that the younger Bush is more interested in pleasing his father than attaining power for himself, Cheney agrees on the condition that Bush delegates "mundane" executive responsibilities, such as energy, the military, and foreign policy, to him. As Vice President, Cheney works with Secretary of Defense Rumsfeld, legal counsel David Addington, Mary Matalin, and the Chief of Staff, Scooter Libby, to exercise control of key foreign policy and defense decisions throughout Washington.
The film returns to the aftermath of the September 11 attacks, as Cheney and Rumsfeld maneuver to initiate and then preside over the U.S. invasions of Afghanistan and Iraq, resulting in the killing of hundreds of thousands of civilians and the torture of prisoners. As the War on Terror mounts, Cheney continues to struggle with persistent heart attacks. The film also covers various events from his vice presidency, including his endorsement of the unitary executive theory, the Plame affair, the accidental shooting of Harry Whittington, and tensions between the Cheney sisters over same-sex marriage. Cheney's actions are shown to lead to hundreds of thousands of deaths and the rise of the Islamic State of Iraq, resulting in him receiving record-low approval ratings by the end of the Bush administration.
While narrating Cheney's tearful deathbed goodbye to his family after another hospitalization, Kurt is killed in a motor accident while jogging. In March 2012, his healthy heart is transplanted into Cheney. A few months later, Cheney acquiesces to his daughter Liz's saying she is opposed to same-sex marriage when she runs for a Senate seat in Wyoming, leaving Mary angry and upset. Liz later wins the election to her father's former Congressional position. At the end of the film, an irate Cheney breaks the fourth wall and delivers a monologue to the audience, stating that he has no regrets about anything he has done in his career, and even thanks them for letting him protect them.
A mid-credits scene depicts a focus group descending into chaos when a conservative panelist slams the film itself as biased and attacks a liberal panelist who defends the movie and insults him, while another younger panelist expresses her anticipation for the next The Fast and the Furious movie.
Can You Ever Forgive Me?
In 1991, following the critical and commercial failure of her biography of Estée Lauder, author Lee Israel struggles with financial troubles, writer's block, and alcoholism. With her agent unable to secure her an advance for a new book, Israel sells her possessions to cover expenses, selling a personal letter she received from Katharine Hepburn to a book dealer named Anna. Meanwhile, she forms a friendship with an old acquaintance, Jack Hock.
While researching a potential Fanny Brice biography, Israel discovers two letters written by Brice, one of which she takes and shows Anna, who makes her a low offer due to the bland content. Israel returns home and adds a postscript to the second letter before bringing it back to Anna, who takes the letter for $350. Israel then starts forging and selling letters "by" deceased celebrities, incorporating intimate details to command high prices. Anna, a fan of Israel's writing, tries to initiate a romantic relationship, but the socially phobic Israel rebuffs her.
When one of Israel's letters raises suspicion for its unguarded discussion of Noël Coward's sexuality, her buyers start blacklisting her. Unable to sell the forgeries, she has Jack sell the letters on her behalf. She also starts stealing authentic letters from libraries and archives to sell, replacing them with forged duplicates. While Israel is out of town committing one such theft, her cat dies under Jack's care. She ends their friendship but continues their partnership out of necessity.
The FBI arrests Jack while he is attempting a sale. He cooperates with them, resulting in Israel being served with a court summons. She retains a lawyer, who advises her to show contrition by getting a job, doing community service, and joining Alcoholics Anonymous. In court, Israel admits she enjoyed creating the forgeries and does not regret her actions, but realizes that her crimes were not worth it because they did not show her true self as a writer. The judge sentences Israel to five years' probation and six months' house arrest.
Sometime later, Israel reconciles with Jack, now dying of AIDS, and obtains his permission to write a memoir about their escapades. While passing a bookstore, she sees a Dorothy Parker letter she forged on sale for $1,900. Disgusted, she writes the store owner a sarcastic note in Parker's voice. Upon receiving Israel's note and realizing that the letter in the storefront window is a fake, the owner removes it from the window, but changes his mind and decides to keep it on display.
Best korean movies on amazon prime
Bestseller No. 1
Ashfall
Amazon Prime Video (Video on Demand)
Lee Byung Hun, Ha Jung Woo, Ma Dong Seok aka Don Lee (Actors)
Lee Hae Jun (Director)
English (Playback Languages)
English (Subtitle)
Bestseller No. 2
You Call It Passion
Amazon Prime Video (Video on Demand)
Park Bo-Young, Jae-yeong Jeong, Sung-Woo Bae (Actors)
Gi-hoon Jeong (Director) - Ki-Hoon Jung (Writer)
English (Playback Language)
English (Subtitle)
Bestseller No. 3
Homme Fatale
Amazon Prime Video (Video on Demand)
Jun-Ho Lee, Jung So-Min, Gwi-hwa Choi (Actors)
Da-Jung Nam (Director) - Da-Jung Nam (Writer)
English (Playback Language)
English (Subtitle)
Bestseller No. 4
Innocence
Amazon Prime Video (Video on Demand)
Hye-sun Shin, Jong-ok Bae, Joon-ho Huh (Actors)
Sang-Hyun Park (Director) - Sung-il Park (Producer)
English (Playback Language)
English (Subtitle)
Bestseller No. 5
Love, Again
Amazon Prime Video (Video on Demand)
Sang-Woo Kwon, Lee Jung-hyun, Jong-Hyuk Lee (Actors)
Yong-jib Park (Director)
English (Playback Language)
English (Subtitle)
Bestseller No. 6
Blind
Amazon Prime Video (Video on Demand)
Ha-neul Kim, Seung-ho Yoo (Actors)
Sang-hoon Ahn (Director) - Min-seok Choi (Writer)
English (Playback Language)
English (Subtitle)
Bestseller No. 7
Along With The Gods: The Two Worlds
Amazon Prime Video (Video on Demand)
Ha Jung-woo, Kim Hyang-gi, Lee Jung-jae (Actors)
Kim Yong-hwa (Director)
English (Playback Language)
English (Subtitle)
Bestseller No. 8
Obsessed
Amazon Prime Video (Video on Demand)
Seung-heon Song, Kim Ji-yeon, Cho Yeo-jeong (Actors)
Dae-woo Kim (Director) - Tae-Kyung Oh (Writer)
English (Playback Language)
English (Subtitle)
Bestseller No. 9
Pipeline
Amazon Prime Video (Video on Demand)
Seo In-guk, Lee Soo-hyuk, Bae Dabin (Actors)
Yu Ha (Director)
English (Playback Language)
English (Subtitle)
Bestseller No. 10
The Attorney
Amazon Prime Video (Video on Demand)
Kang-ho Song, Kwang Soo Cha, Gi-joong Han (Actors)
Woo-seok Yang (Director) - Yoon Hyeon Ho (Writer)
English (Playback Language)
English (Subtitle)
Best zombie movies on amazon prime
Bestseller No. 1
George A. Romero's Survival of the Dead
Amazon Prime Video (Video on Demand)
Devon Bostick, Julian Richings, George A. Romero (Actors)
magnolia (Director)
English (Playback Language)
English (Subtitle)
Bestseller No. 2
Zombieland: Double Tap
Amazon Prime Video (Video on Demand)
Woody Harrelson, Jesse Eisenberg, Emma Stone (Actors)
Ruben Fleischer (Director) - Gavin Polone (Producer)
English (Playback Language)
English (Subtitle)
Bestseller No. 3
FLU
Amazon Prime Video (Video on Demand)
Hyuk Jang, Soo Ae, In-Pyo Cha (Actors)
Sung-su Kim (Director) - Yeong-jong Lee (Writer)
English (Playback Language)
English (Subtitle)
Bestseller No. 4
Zombie: I Eat Your Skin
Amazon Prime Video (Video on Demand)
Del Tenney (Director)
English (Playback Language)
English (Subtitle)
Bestseller No. 5
Zombie Diaries 2
Amazon Prime Video (Video on Demand)
Philip Brodie, Alix Wilton Regan, Rob Oldfield (Actors)
Michael G. Bartlett (Director) - Kevin Gates (Writer) - Rob Weston (Producer)
English (Playback Language)
English (Subtitle)
Bestseller No. 6
Zombie Wars
Amazon Prime Video (Video on Demand)
Laurence R. Harvey, Georgie McGuigan (Actors)
Jason Wright (Director) - Kirsty Richardson (Producer)
English (Playback Language)
English (Subtitle)
Bestseller No. 7
Pride And Prejudice And Zombies
Amazon Prime Video (Video on Demand)
Lily James, Sam Riley, Jack Huston (Actors)
Burr Steers (Director) - Marc Butan (Producer)
English (Playback Language)
English (Subtitle)
Bestseller No. 8
Inmate Zero
Amazon Prime Video (Video on Demand)
Philip McGinley, Stacey Lynn Crowe, Christopher Dunne (Actors)
Russell Owen (Director) - Matthew J. Gunn (Writer) - Aslam Parvez (Producer)
English (Playback Language)
English (Subtitle)
Bestseller No. 9
Goodbye World
Amazon Prime Video (Video on Demand)
Adrian Grenier, Ben McKenzie, Scott Mescudi (Actors)
Denis Hennelly (Director) - Sarah Adina Smith (Writer) - Tal Hackmey (Producer)
English (Playback Language)
English (Subtitle)
Bestseller No. 10
The Day of the Living Dead
Amazon Prime Video (Video on Demand)
Brooke Lewis, James Duval, Jeff Dylan Graham (Actors)
Thomas J. Churchill (Director) - Thomas J. Churchill (Writer) - Harel Goldstein (Producer)
English (Playback Language)
English (Subtitle)
Best 80s movies on amazon prime
Bestseller No. 1
Men At Work
Amazon Prime Video (Video on Demand)
Charlie Sheen, Emilio Estevez, Keith David (Actors)
Emilio Estevez (Director) - Moshe Diamant (Producer)
English (Playback Language)
English (Subtitle)
Bestseller No. 2
Spring Break
Amazon Prime Video (Video on Demand)
David Knell, Perry Lang, Paul Land (Actors)
Sean Cunningham (Director) - Sean Cunningham (Producer)
English (Playback Language)
English (Subtitle)
Bestseller No. 3
Girls Just Want to Have Fun
Amazon Prime Video (Video on Demand)
Sarah Jessica Parker, Helen Hunt, Shannen Doherty (Actors)
Alan Metter (Director)
English (Playback Language)
English (Subtitle)
Bestseller No. 4
Clue
Amazon Prime Video (Video on Demand)
Eileen Brennan, Tim Curry, Madeline Kahn (Actors)
Jonathan Lynn (Director) - Jonathan Lynn (Writer) - Debra Hill (Producer)
English (Playback Language)
English (Subtitle)
Bestseller No. 5
Jasper Mall
Amazon Prime Video (Video on Demand)
Mike, Robin, Joel (Actors)
Bradford Thomason (Director) - Ali Clark (Producer)
English (Playback Language)
English (Subtitle)
Bestseller No. 6
Sixteen Candles
Amazon Prime Video (Video on Demand)
Molly Ringwald, Anthony Michael Hall, Justin Henry (Actors)
John Hughes (Director) - Hilton A. Green (Producer)
English (Playback Language)
English (Subtitle)
Bestseller No. 7
Porky's
Amazon Prime Video (Video on Demand)
Kim Cattrall, Dan Monahan, Mark Herrier (Actors)
Bob Clark (Director) - Bob Clark (Producer)
English (Playback Language)
English (Subtitle)
Bestseller No. 8
Just One Of The Guys
Amazon Prime Video (Video on Demand)
Joyce Hyser, Clayton Rohner, Sherilyn Fenn (Actors)
Lisa Gottlieb (Director) - Andrew Fogelson (Producer)
English (Playback Language)
English (Subtitle)
Bestseller No. 9
Dream a Little Dream
Amazon Prime Video (Video on Demand)
Jason Robards, Corey Feldman, Corey Haim (Actors)
Marc Rocco (Director) - Daniel Jay Franklin (Writer) - D.E. Eisenberg (Producer)
English (Playback Language)
English (Subtitle)
Bestseller No. 10
Heathers
Amazon Prime Video (Video on Demand)
Winona Ryder, Christian Slater (Actors)
Michael Lehmann (Director)
English (Playback Language)
English (Subtitle)
Best 4k movies on amazon prime
Sale
Bestseller No. 1
Sale
Bestseller No. 2
Bestseller No. 3
Sale
Bestseller No. 4
Sale
Bestseller No. 5
Sale
Bestseller No. 6
Jurassic World 5-Movie Collection [Blu-ray]
Sam Neill, Jeff Goldblum, Chris Pratt (Actors)
Colin Trevorrow (Director) - Rick Jaffa (Writer) - Frank Marshall (Producer)
English, English, French (Subtitles)
Audience Rating: PG-13 (Parents Strongly Cautioned)
Sale
Bestseller No. 7
Fast & Furious 8-Movie Collection
Lucas Black, Vin Diesel, Paul Walker (Actors)
F. Gary Gray (Director) - Gary Scott Thompson (Writer) - Neal H. Moritz (Producer)
Portuguese, French, French Canadian, Japanese, Spanish (Subtitles)
Audience Rating: NR (Not Rated)
Sale
Bestseller No. 8
The Hobbit: Motion Picture Trilogy [Blu-ray]
The Hobbit: Motion Picture Trilogy (4K)
Ian McKellen, Martin Freeman, Richard Armitage (Actors)
Peter Jackson (Director) - Fran Walsh (Writer) - Alan Horn (Producer)
Spanish, English (Subtitles)
Audience Rating: PG-13 (Parents Strongly Cautioned)
Bestseller No. 9
Sale
Bestseller No. 10
Last update on 2021-07-24 / Affiliate links / Images from Amazon Product Advertising API